Career Information
Oil and Gas Energy Careers
It's estimated that Nova Scotia's offshore has more than 8 billion barrels of oil potential, and more than 120 trillion cubic feet of natural gas potential and onshore Nova Scotia is a frontier area for exploration, but has potential.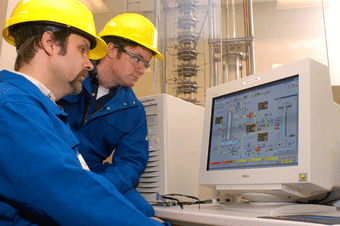 Interested in a career in this growing sector?
Download our 2011-2013 Careers in Energy Handbook for a complete list of occupations in the energy sector.
Click here for 2013-14 activity and career opportunities in Nova Scotia's offshore oil and gas sector.
Visit careers.novascotia.ca to view a list of careers available in Nova Scotia.
Wondering what training and qualifications you need? Check out this guide published by the Canadian Association of Petroleum Producers. 
Also, these sites will tell you where to view career opportunities, post your resume, and find out about the training you need.
Renewable Energy & Sustainable Technology Careers
Nova Scotia is committed to using 40 per cent renewable electricity by 2020. That means the time is right to invest in a renewable energy and sustainable technology career.
Be part of this exciting future. Learn about your career options and recommended training through these associations:
More Career Information
Visit careers.novascotia.ca for the most current and detailed labour market information and employment requirements, as well as information about employment and immigration programs.  At this site, you can
Energy Training Program
Students interested in energy sector careers and employers in the energy sector both benefit from the Energy Training Program for Students.
This program provides wage subsidies to eligible Nova Scotia employers in the energy sector, encouraging them to hire post-secondary students for career-related work terms.