Blue Route is here!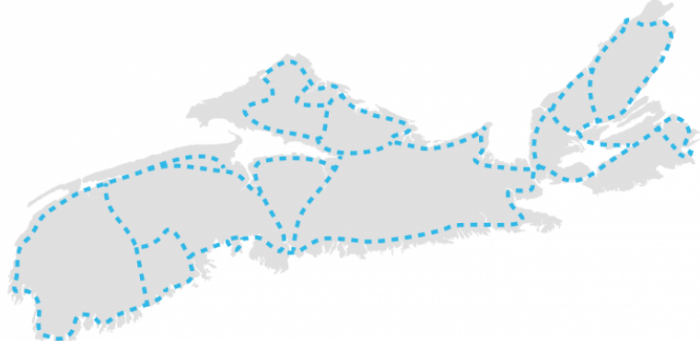 Top five reasons to get on two wheels
The first phase of Blue Route, a province-wide cycling network, launched on August 6 in Pictou, Nova Scotia. Blue Route is a 3000km+ cycling route of shared lanes, paved shoulders, local street bikeways and off-road trails.
So why is the Blue Route important? Why do people use bikes instead of cars?
Here are the top five reasons Blue Route (and more time pedalling a bike) is great for Nova Scotia:
1. It connects communities
The piece of the route that just opened connects Pictou to East Mountain in Bible Hill -- a 60km stretch! Once the project is complete, Blue Route will link communities from one end of Nova Scotia to the other, with plenty of stops in between.
2. It provides a safe alternative to car travel
Safety is a top priority for Nova Scotians when it comes to cycling. The Blue Route includes secondary roads with low traffic volumes, roads with paved shoulders, urban cycling infrastructure, and multi-use trials. There is truly something for everyone!
3. It promotes an active lifestyle
Active transportation, like walking and biking, is one of the easiest ways to increase physical activity on a daily basis and improve health for all ages.
4. It's good for the environment
Did you know that more than 26 per cent of greenhouse gas emissions come from the transportation sector? Every time we make a choice to leave the car at home, we help make our planet a little bit greener. (We're making that choice even easier through our Connect2 grant program, which launched in May.)
5. It enhances our tourism offering
A growing number of tourists are choosing to experience Nova Scotia by bike. Once Blue Route is complete, cyclists will be able to cover more than 3000km in Nova Scotia – easily and safely.
Nova Scotia's Sustainable Transportation Strategy, Choose How You Move, is about providing all Nova Scotians with accessible, affordable, safe and convenient choices that support our personal and environmental well-being. (Check out Action #11: Develop and implement Blue Route!)
The Department of Energy has provided almost $100,000 to Bicycle Nova Scotia to support Blue Route. This investment helped support community engagement across the province, as well as brand strategy and web design.
We are proud to support Blue Route!