New innovative connection in the Chain Of Lakes Greenway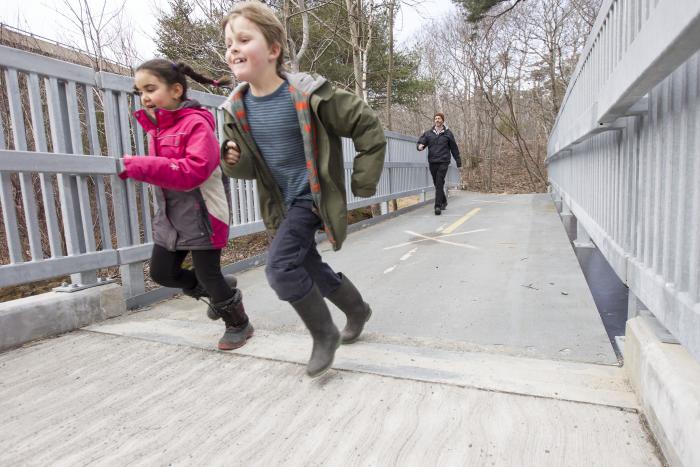 When life gives you old bridge parts, you renovate trails.
At least that's what the Halifax Regional Municipality (HRM) did.
The Chain of Lakes Greenway connects many communities in the Halifax area and is a busy walking and bicycling route. It connects residents to schools and commercial areas proving its use to be more than just recreational.
Despite its flourishing use for active transportation, accessibility to the St. Margaret's Bay Road bike lanes and surrounding communities were limited due to the watercourses in the area. Far from a setback, this presented itself as an opportunity for HRM.  
"As part of implementing our Active Transportation Plan, we are addressing those short, but sometimes challenging gaps that will open opportunities for more residents to travel via sustainable transportation modes,"  explained David MacIsaac Active Transportation Demand Supervisor from HRM, recipient of the Nova Scotia Department of Energy's Connect2 Program. "When the Bridge Commission offered the surplus steel panels from the Angus L. MacDonald Bridge, we were very interested in using them to develop our AT network."
It was then that the idea of creating a bridge and a greenway connection could become a reality. Though its simplicity in thought, it wasn't so simple when put into action.
"It is often that short and strategic projects can be quite complex, but they are often the most impactful," shared Mr. MacIsaac.
Not only did HRM commit to creating the bridge to close the gap, it also committed to developing a plan to expand the connections of the Chain of Lakes Greenway.
"This grant allowed us to expand our range of possibilities."
Do you have a great idea for a sustainable transportation project in your area? We can help by covering up to 50% of the eligible costs! Apply today for a Connect2 sustainable transportation grant.