New pathway connects school to museum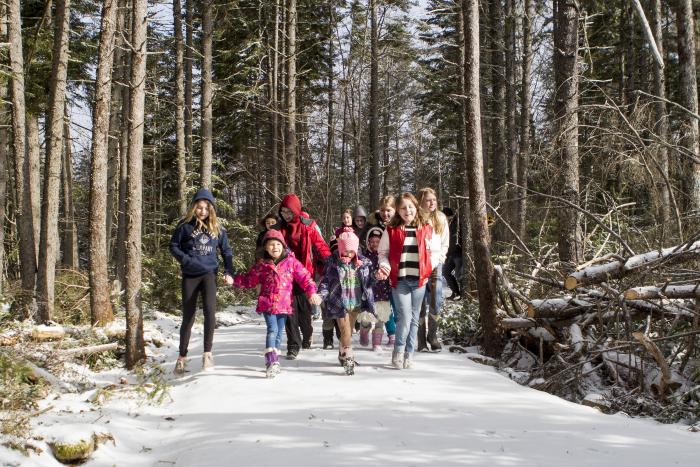 A project flagged in 2009 to connect the New Ross Consolidated School to the New Ross Farm Museum through the creation of a trail, has finally become a reality. "With the newly opened Learning Center at the New Ross Farm Museum, there wasn't been a better time to undertake this project," said Gordon Tate from Chester's Department of Recreation and Parks.
Mr. Tate worked with many in the community including the school principal, the museum staff and local contractors to complete the project. The trail was strategically mapped out to ensure as little plant life was disturbed as possible, which makes for a winding scenic path for commuters.
"It serves the community in more ways than we imagined," explained Mr. Tate. "It connects the farm to the local playing field, which will aid them in capturing more business during summer tournaments.
"It saves the school the money and hassle of hiring a bus service to travel 400 metres down the road, and what's even more exciting is that the school is hoping for it to be approved as an alternative fire escape route."
The project was one of the recipients of the Nova Scotia Department of Energy's Connect2 program. It's part of the department's mission to explore new ways of creating and saving energy in a way that's beneficial for all Nova Scotians. What better way to cut back on emissions and create community pride than to have everyone come together to create a new solution unique to them.  And that is exactly what it's doing!
"Those who are making use of the trail are proud and excited about it" said Mr. Tate, "With all of this excitement behind the trail, it's really beginning to develop more discussions on how we can use sustainable transportation to connect more of the community."
Do you have a great idea for a sustainable transportation project in your area? We can help by covering up to 50% of the eligible costs! Apply today for a Connect2 sustainable transportation grant.