Nova Scotia Small Business Gives Grad Reason to Stay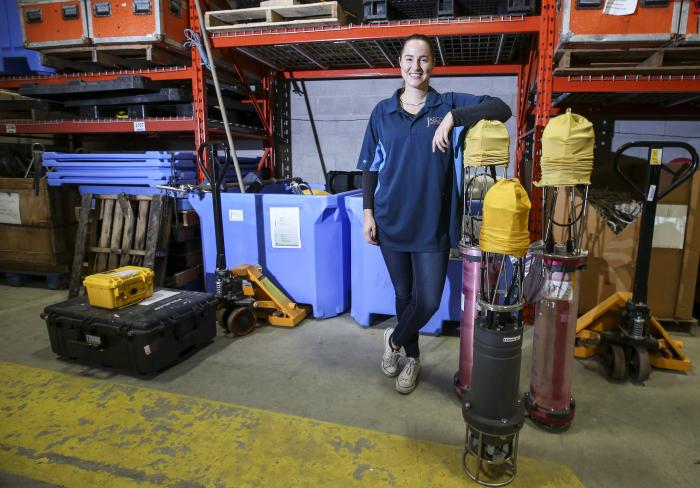 A native of a small fishing village in northern Cape Breton, Carmen Lawrence was born into a region with a wealth of marine life. At a young age, this sparked her passion for marine mammals and underwater acoustics in the Atlantic Ocean.
It was only fitting that she take her passion for the water and turn it into a career.
After graduating from Dalhousie University with a degree in Marine Biology, Carmen knew that she wanted to gain more hands-on experience working with marine life. She later enrolled in Ocean Technology program at Nova Scotia Community College (NSCC).
"NSCC offered hands-on learning through group work, practical application and a personalized learning environment," said Carmen Lawrence. "It was definitely my style of learning."
In the summer of 2016, Carmen completed a co-op term as a Project Scientist with JASCO Applied Sciences (Canada) Ltd. The position she held was partly funded through the Energy Training Program, offered through the Nova Scotia Department of Energy.
According to JoAnn Nippard, human resource manager for JASCO Applied Sciences Canada, the energy training program makes it possible for small-sized companies to bring in new graduates with fresh ideas and youthful perspectives, who already have an understanding of the energy sector.
Carmen certainly received the hands-on experience she was searching for at JASCO.
In just four months, Carmen attended three field work trips, sometimes as long as three weeks at a time, deploying and mobilizing equipment for marine acoustic analysis.
"Nova Scotia is a hub for the ocean technology industry. The sector has seen large developments recently, such as the Centre for Ocean Ventures and Entrepreneurship (COVE)," Carmen said. "I want to work in this sector because it positively impacts the Nova Scotia economy and provides meaningful employment for young people so they can live and work locally."
Carmen has since been kept on as a full-time employee at JASCO, and is about to embark on another week-long field work trip with the company. She believes that, the mentorship she received as a co-op student, gave her the vital skills she needs to enter the workforce head-on.
"Getting hands-on work experience was the key to my success."  
The Energy Training program provides eligible employers with a 50 per cent subsidy, up to $7.50 per hour, toward a student's salary during a 12 to 17 week employment with the organization. Work terms are from May to August.