Petit de Grat Beautification Society Enables Updated Pathway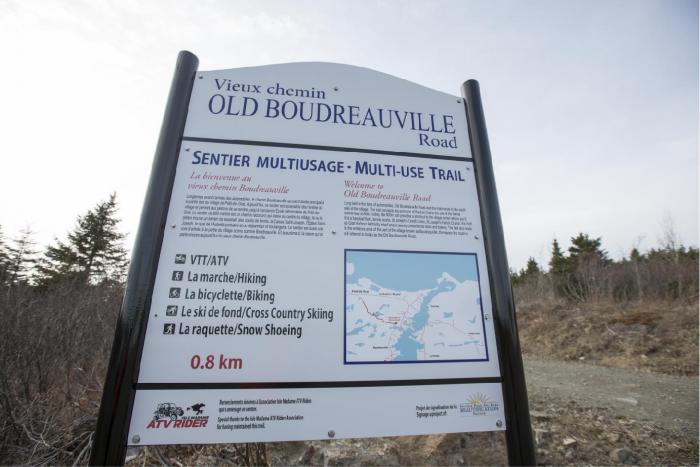 When one project closes, another project opens, or was that doors?
A recipient of the 2015 Nova Scotia Department of Energy Connect2 grant found this to be true when it took on the Old Boudreauville Road Signage Project in Richmond County.
After a project taken on by a local ATV riders club did renovations and cleaned up the pathway, it became a beautiful area. Paths wide enough for walking and cycling. Use of the path began to grow as it connects from one side of the community to the other. There was just one thing missing, direction.
That's where the Petit de Grat Beautification Society came in.
"We wanted to provide signs to the updated path" explained Robert Samson, chair of the society. "Not only did we want to inform tourists of the path, we wanted to ensure residents were aware of the improvements as well."
The Petit de Grat Beautification Society went to local companies like Marchand's Welding and Fabrication and the Fleur-de-Lis Signs for support in their project. "The project didn't just support the community in ways of active transportation, it also supported the community in ways of economic sustainability by choosing local," shared Mr. Samson.
They also made the signs in both English and French to appeal to any tourists visiting the Acadian community.
The program is led by the Nova Scotia Department of Energy. It provides funding towards sustainable and active transportation projects. It's part of the department's mission to explore new ways of creating and saving energy in a way that's beneficial for all Nova Scotians. 
The project may be finished but the dreams of active transportation have not stopped.
"This grant had a direct and positive impact in our area. We've already noticed a significant increase in use. We're done this project and now planning more ways to improve our community including more pathways and community signage," added Mr. Samson.
Do you have a great idea for a sustainable transportation project in your area? We can help by covering up to 50% of the eligible costs! Apply today for a Connect2 sustainable transportation grant.