Student Connects the Dots in Town of Westville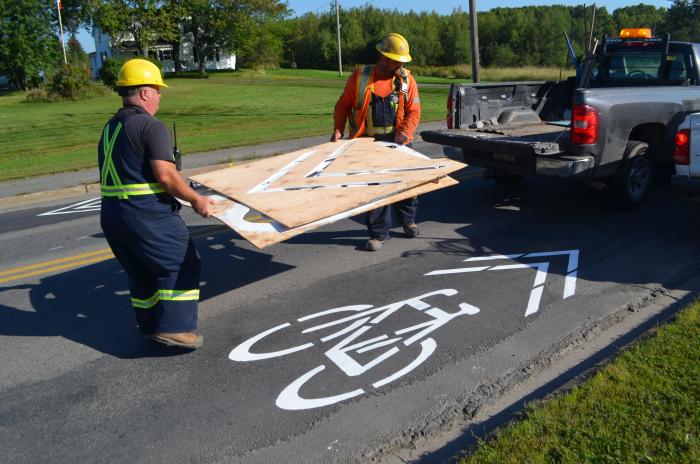 In 2015, the Town of Westville was awarded funding from the Nova Scotia Department of Energy Connect2 program for its Connecting the Dots project. It was a project to direct people into or out of Westville through safe active transportation routes. The signs would lead commuters directly to the Trans-Canada Trail routes that allow users to reach Stellarton or New Glasgow.
The town worked with many in the community, including the Public Works, local traffic authority, and The Clean Foundation. The Clean Foundation, in particular, stood out as it provided a team of student leaders to help identify the opportunities in the community. In fact, one student saw the project she developed put into action.
"It was an incredible learning opportunity" said Sally O'Neill, the project coordinator. "Leadership intern, Sasha Barnard, identified the opportunity, was able to follow it through until the end, and was able to make a difference in the community. Just as this project wouldn't have been the same without the grant, it definitely wouldn't have been the same without her."
Though the project's main goal was to provide signs to safely direct people, they were able to expand a little with what was left over. "We had money left over after the signs project was complete, so now the Town is looking to install a bike fixing station for the community to use," shared Ms. O'Neill.
Making it safer for the community, allowing more outdoor activities and more options for sustainable transportation were just some of the immediate rewards of taking on this project. The best were yet to come.
"Very soon after the project work began, community members would come out of their way and thank staff for what they were doing. It felt so great to hear, we were so thankful for their support."
Do you have a great idea for a sustainable transportation project in your area? We can help by covering up to 50% of the eligible costs! Apply today for a Connect2 sustainable transportation grant.