COMFIT
The COMFIT program is no longer accepting applications.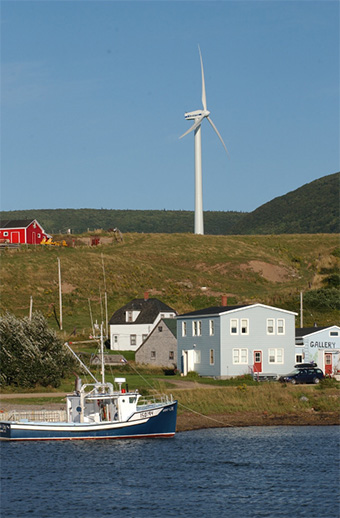 The Nova Scotia Community Feed-in Tariff (COMFIT) program is part of Nova Scotia's ongoing efforts to move away from carbon-based electricity to achieve 40% renewable energy sources by 2020. COMFIT encouraged community-based renewable energy projects by guaranteeing a rate per kilowatt-hour for the energy that feeds into the province's distribution electrical grid. The program was designed to broaden ownership of renewable electricity in Nova Scotia and facilitate community investment in electricity projects. Through COMFIT smaller producers are now able to supply renewable energy to their communities.
Between 2011-2016 more than 100 community partnerships successfully established renewable energy projects throughout Nova Scotia, collectively creating 150 megawatts of community owned power - enough to provide electricity to more than 14 000 homes. Nova Scotians raised more than 45 million dollars to develop COMFIT projects, which led to a $135 million investment in Nova Scotian communities.
The Department of Energy continues to be a global leader in involving community partners in the development of renewable energy. See the Community Solar program for more information on our latest initiative.
To view the current status of each COMFIT project see the COMFIT projects status list (updated May 2019)