Maritime Link/Lower Churchill Hydroelectric Project
The Maritime Link, an overland and subsea transmission cable, will give Nova Scotia access to hydroelectric power from the Lower Churchill Hydroelectric Project. This connection will provide Nova Scotia with a minimum of 900 gigawatt hours (GWh) of electricity per year as part of the base energy block. It is anticipated that this Link will also deliver an additional 1,200 to 2,000 GWh per year of electricity that will be available at competitive market-based pricing. When combined, this represents 8% to 20% of the province's electricity needs. The Maritime Link will also create a second interconnection point to the North American grid, increasing reliability by establishing an electrical loop. The first power from the project is expected in 2017.  To learn more visit www.emeranl.com
As a result of this historical agreement between Nova Scotia and Newfoundland and Labrador, Nova Scotians could see noticeable economic, environmental, and social benefits, including 35 years of clean energy and price stability for Nova Scotia rate payers.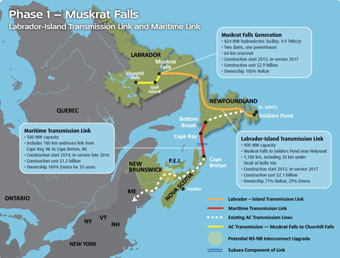 The UARB approved a submission from Emera and Nalcor in November 2013, stating it met the conditions the Board insisted upon when the project was given a conditional approval in July 2013.
The decision by the Board clears an important step in the construction of a 170-kilometre subsea link between southwestern Newfoundland and Cape Breton Island that would ship hydroelectricity from Muskrat Falls to Nova Scotia. Most importantly, the UARB's ruling also helps protect ratepayers from undue costs. On Nov. 18, 2013, the Department of Energy submitted a list of eight conditions it requested be included in any approval of the filing by Emera and Nalcor. The eight conditions were designed to further protect ratepayers from the financial risks of the Maritime Link project. The UARB announced on Nov. 29 that it had approved the compliance filing by Emera and Nalcor, including in its decision the Provincial Government's eight conditions. The eight conditions and more information about this project can be found
here
.
On November 26, 2014, the governments of Nova Scotia and Newfoundland and Labrador, and NSP Maritime Link Inc., a subsidiary of Emera, signed an industrial and employment benefits agreement  for the Maritime Link Project. The agreement is based on terms in the interprovincial Memorandum of Understanding signed by the provinces in late 2011.
The agreement includes commitments to the following:
•             Equal opportunities for Nova Scotia and Newfoundland and Labrador businesses and residents.
•             A fair, open and transparent procurement and contracting process for suppliers and contractors in both provinces.
•             Funding for training and development positions that align with the specialized nature of the Maritime Link Project.
•             Educational sponsorships to be allocated between universities in Nova Scotia and Newfoundland and Labrador to support Maritime Link related technologies.
•             Tracking and reporting updates of data related to economic and employment benefits for both provinces.
Read the press release here.