Marine Renewable Energy in Nova Scotia
Nova Scotia's potential for tidal power is massive.
Our Bay of Fundy's tides push over 160 billion tonnes of water twice a day. That's more than four times the combined flow of every freshwater river in the world!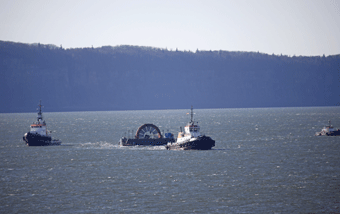 That's also an estimated potential of up to 60,000 megawatts (MW) of energy, of which up to 2,500 MW may be extracted without significant impact on our marine environment. However, the Province is aiming for a more modest 15 to 20 MW on the path to reducing cost before the goal of 300 MW of energy can be reached.
Nova Scotia's legislative framework for marine renewable energy was tabled in the Nova Scotia Legislature on April 29, 2015. The legislation will implement the Province's Marine Renewable Energy Strategy, released in May 2012, which maps out a high-level plan to continue researching, developing, and regulating how we will harness this resource, which we believe will result in
a new, dependable source of power
expertise that will be in demand worldwide
new, economic opportunities in Nova Scotia
Learn more about meeting the Fundy Standard and tidal energy in Nova Scotia.