Offshore
Offshore Nova Scotia is a proven oil and gas rich region.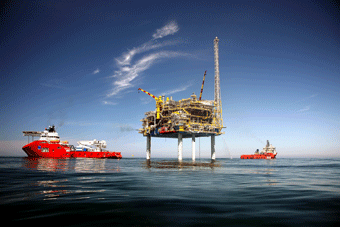 The Scotian Basin has seen success with the Sable Offshore Energy, Cohasset-Panuke and the Deep Panuke Projects. The new Scotian Basin Integration Atlas estimates the basin contains ~32 Bboe (in place and unrisked).
The Scotian Basin Integration Atlas 2023 represents a collaborative and comprehensive new play fairway analysis of the deep water sub-basins, offshore Nova Scotia. It builds on legacy work published during the last decade by the Nova Scotia Department of Natural Resources and Renewables (NSDNRR) and the Offshore Energy Research Association (OERA). Major enhancements in understanding are reported here, based on new data and new ideas.
The new data component is a result of exploration work, by Shell, BP and partners, that has taken place since 2012. This exploration effort delivered two new very large, modern 3D WAZ seismic surveys and three deep water exploration wells. These datasets have enabled a fresh perspective and improved understanding of the geological history of the area and have confirmed and extended the view that a substantial resource base exists in the province.
Atlas integration was a collaborative effort by Biecip-Franlab, NSDNRR, OERA, Canada-Nova Scotia Offshore Petroleum Board (CNSOPB) researchers, and a team of technical advisors and experts from academia and industry. The Scotian Basin Integration Atlas 2023 integrates new regional seismic mapping, sequence stratigraphy, source rock evidence for two working source rocks, geobody-based reservoir Gross Depositional Environments (GDEs), updated petroleum systems models and Common Risk Segment (CRS) maps, and preliminary volumetrics for select top leads.
Download the atlas: https://oera.ca/research/scotian-basin-integration-atlas-2023
Investors are discovering that Nova Scotia is a welcoming place to do business
We have brought fairness and speed to the regulatory process.
We have an international reputation for excellence in engineering, fabrication and supply services.
We have a world-class education system that produces highly skilled workers.
We are a stable place to do business.
We're close to the major North American energy markets.
We welcome you to learn more about Nova Scotia's potential, and how you can benefit from it.
In April 2022, Canada and the Province announced their intent to expand the mandate of the board into offshore renewables. Read the release.