Play Fairway Analysis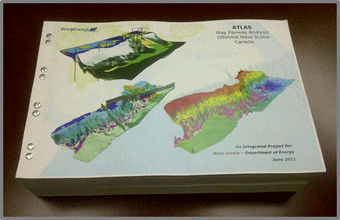 The Play Fairway Analysis (PFA) project has identified diverse rich hydrocarbon potential in the offshore with an in-place resource of 121 trillion cubic feet of gas and 8 billion barrels of oil. There is a substantial opportunity in shallow water, small-scale traps with potential for both oil and gas. The PFA has also identified and mapped very large-scale potential traps that could contain gas, condensate and/or oil. Large-scale gas/condensate opportunities exist along the North Eastern part of the margin in deep water and a predicted oil-charged play in the South West of the margin. More information can be found in the Play Fairway Analysis Executive Briefing.
The diversity of the opportunity set makes Nova Scotia of interest to a wide range of companies. Combined with the proximity to the world's largest market and the political stability of a G8 nation, this makes Nova Scotia Offshore a very valuable investment opportunity for the oil industry. This became evident when, subsequent to the completion of the PFA, two Call for Bids rounds were held. In 2011 , Shell Canada, was awarded four deep water parcels in the southwest for a combined work expenditure bid of $970 million. In 2012, BP was awarded four deep water parcels in the region south west of Sable Island for a total work commitment of $1.05 billion. Additionally, Shell Canada was also awarded two deep water and two shelf parcels for a combined work commitment of $32 million. In total, this resulted in $2.05 billion in work commitment bidding including the highest bids received in Atlantic Canada on both a per bid round and per block basis.
The 2013 call focused on the shallow water regions north and east of the Sable Island area. Since this call, the province has completed new geoscience analysis including seismic reprocessing. Although there weren't any bids in 2013, we expect positive results in future as we release new geological data when these areas again come up for bid.
The 2014 call for bids is in the Laurentian Subbasin. The province will release new geoscience research in time for the 2014 call for bids. This new information will address many geological questions for industry.